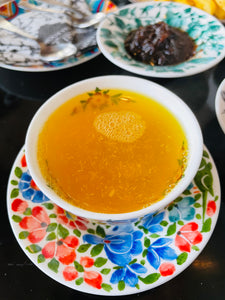 Kashmiri Kahwa Tea
Kashmiris call the coldest winter days 'Chlllai Kalan' which translates to forty days of intense cold. Chillai Kalan are the days when the winter is the harshest in Kashmir. It is also the time when I will seize the winter day, bundle up in one of my warmest Kashmiri shawls, and go outside for long or short walk to one of the local cafes in Srinagar for a cup of Kahwa Tea. 
Despite being an avid coffee drinker, I call this tea my little cup of heaven.  
What is Kahwa Tea? 
The Kashmiri variation of kahwa is made by boiling green tea leaves with local saffron, cinnamon, cardamom and occasionally Kashmiri roses. It is generally served with sugar or honey and crushed nuts, usually almonds or walnuts.
The word Kahwah in Kashmiri means "sweetened tea", though the word also seems to be related to the Turkish word for coffee (kahveh) which in turn might be derived from the Arabic word "qahwah."
Traditionally, Kashmiris have always referred to kahwa as Mogul chai. Meaning this tea was introduced in the Kashmir Valley by the Mughal Emperors who built and ruled much of the India subcontinent from 1526 to around the year 1850. 
You can buy kahwa tea pre-packaged and some even include the walnuts. However, prepackaged kahwa is not the same as having an authentic cup of it in a local cafe or tea house in the Kashmir Valley like the Chai Jaai Tea Room located across from the Jhelum View Park on the Jhelum River. I can attest to the fact, that Chai Jaai, serves the best kahwa that I have enjoyed thus far. The Tea House is also aesthetically pleasing to the eyes with many bright and colorful tea cups and colorful balls hanging from ceiling along with all the other wonderful deco that makes you pause to enjoy. If you are ever in Srinagar, please pay the Chai Jaai Team Room a visit. You will not be disappointed! 
With love,
Carla @ Kashmir House of Pashminas